Discover the tantalizing flavors of Cherry Dump Cake. Bursting with juicy cherries and a perfectly crunchy topping, this dessert brings a delicious dose of sweetness to your table.
More than just a dessert, this cherry dump cake is a celebration of simple baking and the delightful flavors that come with it. Vibrant cherries provide a juicy, sweet base that pairs perfectly with the crumbly, buttery topping. You don't have to be a baking expert to make this delicious treat. Cherry dump cake is the perfect dessert for any occasion, whether you're hosting a dinner party or simply treating yourself to a quiet evening.
FAQ
Can I use canned or frozen cherries?
Yes, I can! If using frozen cherries, thaw at room temperature for about 30 minutes before using in recipes. For canned cherries, use 45-60 oz cherries soaked in water instead of syrup and drained well.
Why doesn't my flour mixture spread evenly?
It can be difficult to spread the dump cake evenly. If you notice raw specks while baking, use a spoon to flatten the high parts so they can absorb the liquid.
Should I remove seeds from cherries?
Yes, you must remove the seeds from cherries before using them in recipes. This can be done with a cherry pitter or by hand.
replacement
For those with dietary restrictions, there are some easy substitutes.
If you are sensitive to gluten, Use a gluten-free all-purpose flour mix.
To reduce sodium content, Choose unsalted butter and a little less salt. No loss of flavor.
For the vegan version, Replace butter with a plant-based alternative butter.
If you refrain from sugar, Replace sugar with natural sweeteners such as stevia or erythritol.
Please note that substitutions may alter the final taste or texture.
offer suggestions
Cherry dump cake is a great dessert on its own, but it also goes great with vanilla ice cream or whipped cream. The rich flavor makes it the perfect end to a hearty dinner. Perfect for celebrations and holiday meals, it's sure to impress your guests.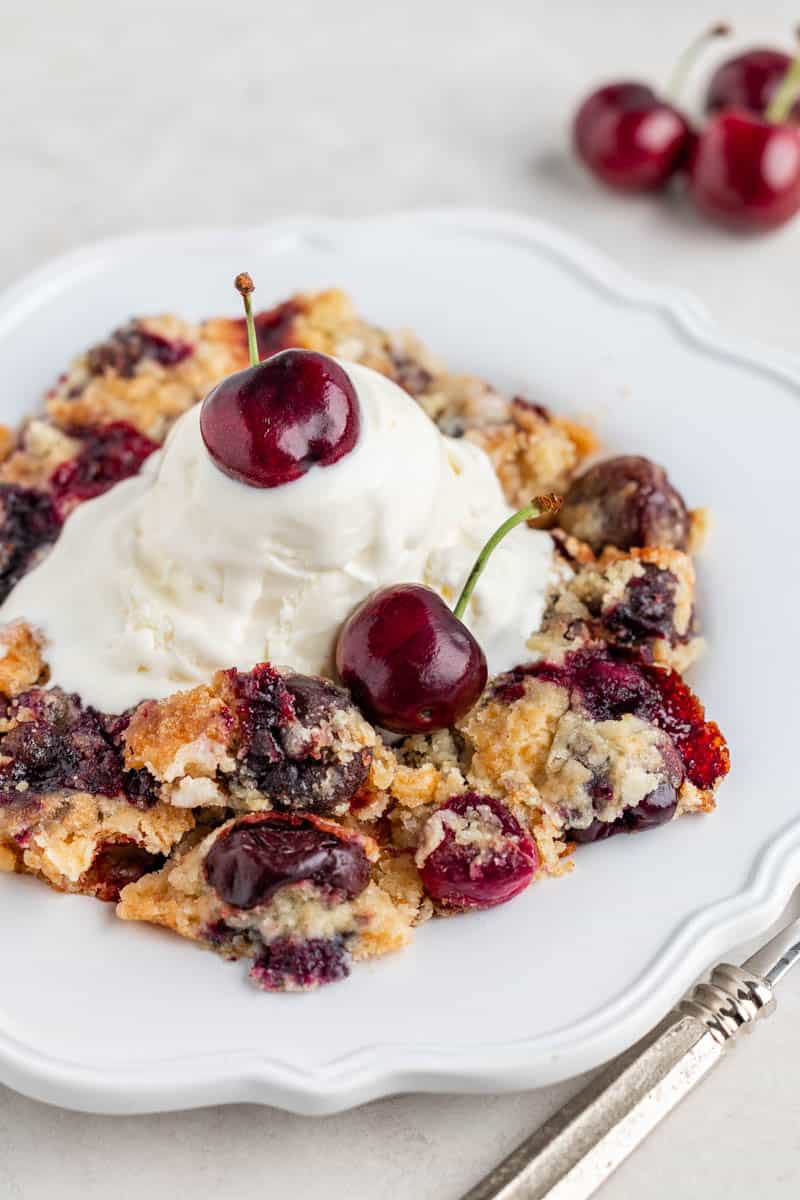 Storage and reheating instructions
Store leftover cherry dump cake in an airtight container at room temperature for up to 3 days. To reheat, place the slices on a microwave-safe dish and heat on the low setting until warm to the touch.
If you like this recipe, you may also be interested in these other delicious dessert recipes.