Want a light, nutritious and delicious meal? Try our Chinese Chicken Salad, packed with bright flavors and a satisfying crunch. Perfect for a small lunch or dinner!
Introducing a bright and delicious Chinese chicken salad. A fun way to enjoy a nutritious meal while satisfying your taste buds. This recipe combines fresh vegetables, tender chicken, and a mouth-watering dressing to take cooking to new heights. produce. Great for meal prep or quick lunches and dinners, this Chinese chicken salad is as versatile as it is delicious. Not only is it easy to prepare, but it offers a refreshing break from your daily salad routine. Try this delicious and satisfying salad and see it become a regular favorite in your meal rotation.
nuts

If you have a nut allergy, or simply don't want almonds in your salad, feel free to omit them. Salads are delicious and flavorful even without nuts. Alternatively, almonds can be replaced with crunchy toppings such as sunflower or pumpkin seeds.
FAQ

Can this be pre-created?
Yes, you can prepare your salad in advance. However, it's a good idea to store dressings and crunchy toppings separately until you're ready to serve.
Is this salad gluten-free?
The salad itself is gluten-free, but wontons and fried noodles may contain gluten. To make the recipe gluten-free, replace the noodles with a gluten-free alternative or omit them entirely.
What kind of chicken should I use?
You can use pre-cooked chicken, such as grilled, baked, or leftover rotisserie chicken.Be sure to chop or cube it before adding it to your salad.
serving suggestions

Enjoy our Chinese Chicken Salad as an entree for lunch or dinner. It goes well with a variety of sides such as rice, quinoa, and light soups. If you plan to serve this salad to larger gatherings, consider serving it as part of a buffet-style spread alongside other Asian-inspired dishes.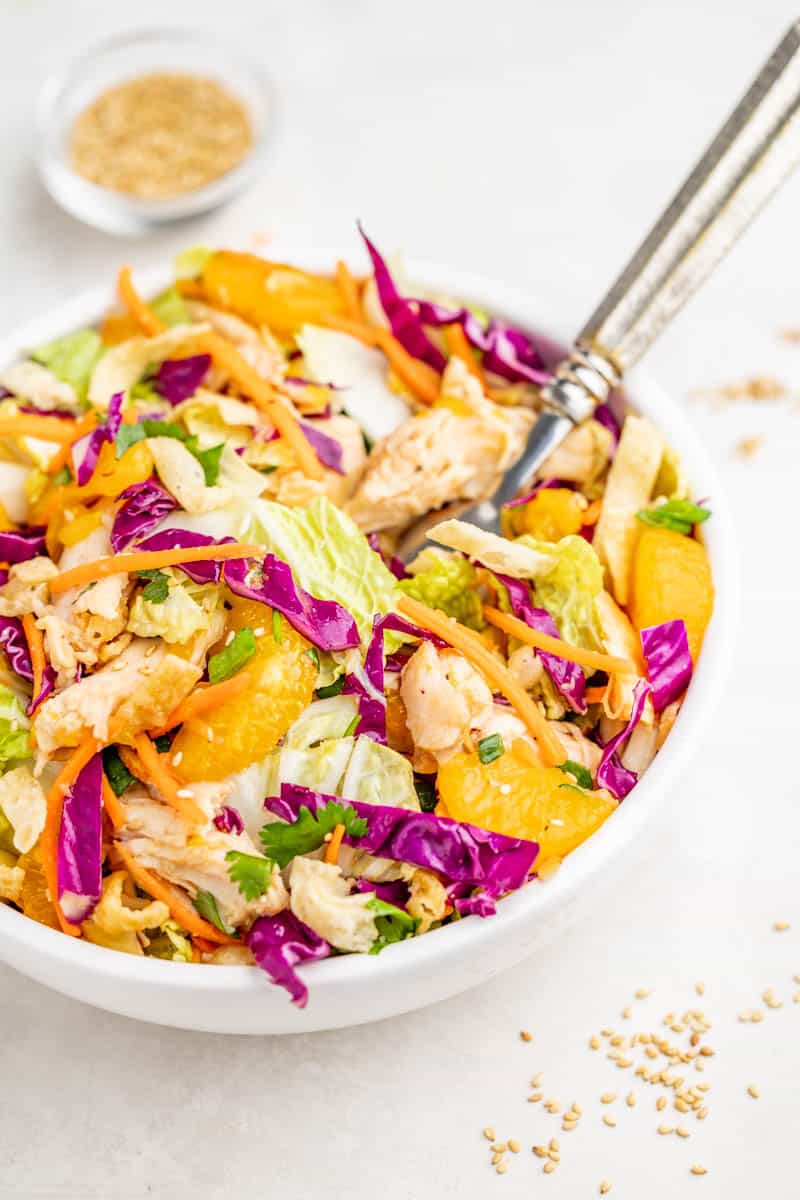 Storage method

Leftover salad can be stored in an airtight container in the refrigerator for up to 3 days. Store dressings and crunchy toppings separately to maintain the freshness and texture of your salad. When you're ready to enjoy the leftovers, toss the salad with the dressing and add the toppings just before serving.
Related recipes

If you like this recipe, you may also be interested in other delicious hearty salad recipes.
Watch the video below Caytlin walks you through every step of this recipe. Sometimes visuals help and we always have you covered with our cooking shows. Youtube, facebook watch, or our Facebook pageor here on our website with the corresponding recipe.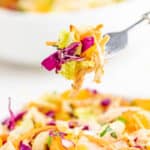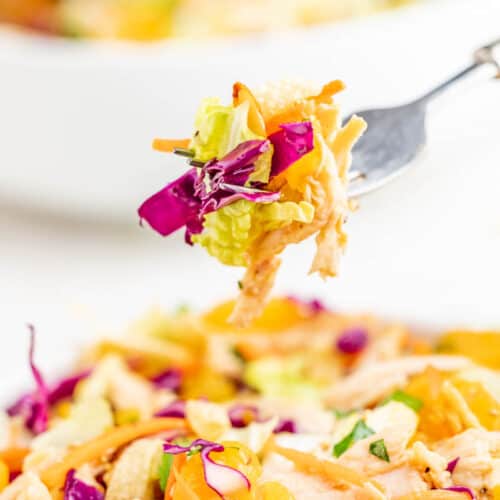 Want a light, nutritious and delicious meal? Try our Chinese Chicken Salad, packed with bright flavors and a satisfying crunch. Perfect for a small lunch or dinner!
material
Four

cup

thinly sliced ​​napa or green cabbage

2

cup

sliced ​​red cabbage

1

cup

chopped or matchstick carrots

2

cup

cooked shredded or diced chicken

1/2

cup

sliced ​​green onion

1/4

cup

toasted

sliced ​​almonds

1

cup

mandarin oranges cut with water

1/4

cup

coriander

3/4

cup

wonton strips or fried noodles

2

tablespoon

Gum
dressing:
1/4

cup

soy sauce

1/4

cup

rice vinegar

2

tablespoon

toasted sesame oil

2

cloves

crushed garlic

2

tea spoon

minced ginger

1

tea spoon

sugar

1

tea spoon

pepper
procedure
In a small bowl, combine the soy sauce, rice vinegar, sesame oil, minced garlic, minced ginger, sugar, and pepper to make the dressing. Whisk until well mixed.

In a large mixing bowl, combine thinly sliced ​​Chinese cabbage, julienned carrots, sliced ​​green onions, and cooked chicken.

Place the drained tangerines and cilantro in a bowl and mix all the ingredients.

Pour the dressing over the salad and mix until the dressing is evenly distributed.

Just before serving, top the salad with wontons or fried noodles and sesame seeds.
calorie: 182kcal | | carbohydrates: 13g | | protein: Teng | | obesity: 11g | | saturated fat: 2g | | Polyunsaturated fat: 3g | | Monounsaturated fat: Fourg | | Trans fat: 0.04g | | cholesterol: 28mg | | sodium: 596mg | | potassium: 371mg | | fiber: 3g | | sugar: 8g | | Vitamin A: 4037IU | | Vitamin C: 38mg | | calcium: 64mg | | iron: 1mg