Relive the nostalgia of French bread pizza with an easy and budget-friendly recipe that even busy moms will love! Perfect for weekday dinners or impromptu gatherings, this delicious dish brings back memories of childhood.
Combining the volume of traditional pizza with the crispy crust of French bread, this French bread pizza recipe is a game-changer for those who want to enjoy a comfort meal without spending hours in the kitchen. allows you to personalize with your favorite toppings and adjust the baking time to achieve the crunchiness you prefer. Plus, it's a great way to use up leftover bread or introduce a new flavor to your pizza-loving family.
Rich history with a twist

The origins of pizza can be traced back to ancient civilizations, but the modern version we know and love today was popularized in Naples, Italy in the 18th century. French bread pizza, on the other hand, is an American invention that he emerged in the 1970s as a creative and convenient alternative to traditional pizza. By using baguettes and French bread as a base, the taste and texture of traditional Italian cuisine are preserved, while adding a unique twist.
Topping ideas for every taste

The appeal of French bread pizza lies in its customizability. Here are some popular topping suggestions:
Classic: pepperoni, sausage and mushrooms
Vegetable Delight: Peppers, Onions, Olives, Spinach
Hawaiian: Ham and Pineapple
Meat lovers: bacon, ground beef, ham
Gourmet: prosciutto, arugula, goat cheese. Feel free to mix and match or get creative with your own combinations.
FAQ

Can I use a different kind of bread?
We recommend French bread, which is characterized by its crispy crust and fluffy inside, but you can also use other bread such as Italian bread or baguette. Adjust the baking time if the bread is thicker or thinner than French bread.
How can I prevent soggy pizza?
Pre-baking the bread in the butter mixture helps create a barrier that prevents the sauce from soaking into the bread. so don't overdo it.
Can I freeze before baking?
Yes, assembled French bread pizzas can be frozen before baking. Wrap each half tightly in plastic wrap or aluminum foil and place in a freezer-safe bag. It can be stored in the freezer for about 3 months. To bake, preheat your oven and bake your pizza straight from the freezer. Add a few extra minutes to the baking time to ensure it's cooked through.
Can I use store-bought pizza sauce instead of making my own?
absolutely! Store-bought pizza sauce is a time-saving way to add delicious flavor to your French bread pizza. Feel free to use whatever brand or homemade sauce you prefer.
serving suggestions

French-bread pizza is best fresh from the oven, but a side salad, steamed vegetables, or soup makes for a more balanced meal. It's the perfect dish for informal gatherings, game nights, or cozy family dinners.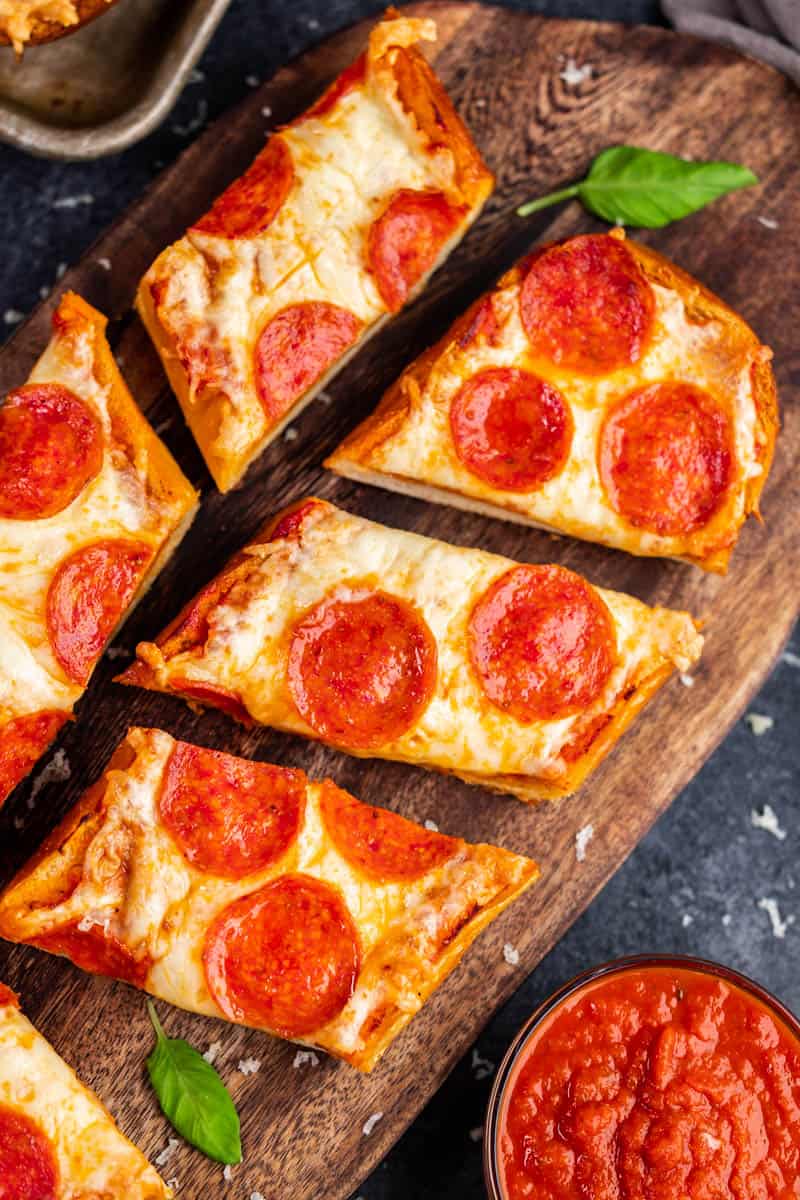 give instructions in advance

You can prepare French bread pizza in advance by combining buttered bread, sauces, cheese and toppings. Wrap tightly in plastic wrap or aluminum foil and store in the refrigerator for up to 24 hours. When you're ready to bake, remove the plastic wrap and follow the baking instructions.
Storage and reheating instructions

Leftover French bread pizza can be stored in an airtight container in the refrigerator for up to 3 days. To reheat, place on a baking sheet and warm in an oven preheated to 350 degrees Fahrenheit to desired temperature.
Related recipes

If you like this recipe, you may also be interested in other delicious pizza-based recipes:
Watch the video below Caytlin walks you through every step of this recipe. Sometimes visuals help and we always have you covered with our cooking shows. Youtube, facebook watch, or our Facebook pageor here on our website with the corresponding recipe.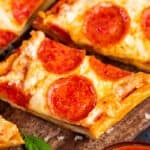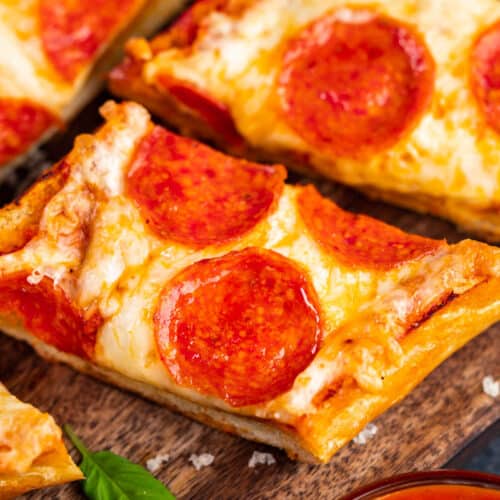 Relive the nostalgia of French bread pizza with an easy and budget-friendly recipe that even busy moms will love! Perfect for weekday dinners or impromptu gatherings, this delicious dish brings back memories of childhood.
material
1

white bread french bread

8

ounce

softened butter

2

tea spoon

garlic powder

1/2

tea spoon

oregano

1/4

cup

finely grated parmesan cheese

1 1/2-2

cup

pizza sauce

2

cup

shredded mozzarella cheese

toppings of your choice

Examples: pepperoni, ham, sausage, olives, mushrooms, pineapple
procedure
Preheat oven to 450 degrees Fahrenheit.

Cut French bread in half lengthwise.

Mix the softened butter, garlic powder and oregano in a bowl.

Place the bread on a baking sheet, cut side up, and spread the butter mixture evenly over the top. Sprinkle with grated parmesan cheese.

Bake for about 5 minutes or until surface is slightly charred.

Remove from the oven and spread the pizza sauce evenly over the top.

Spread the shredded mozzarella cheese evenly and top with your favorite toppings.

Bake for 10 to 12 minutes or until cheese is bubbly and browned.

Chill, slice and enjoy!
calorie: 673kcal | | carbohydrates: 30g | | protein: 20g | | obesity: 53g | | saturated fat: 26g | | Polyunsaturated fat: Fiveg | | Monounsaturated fat: 18g | | Trans fat: 1g | | cholesterol: 120mg | | sodium: 1252mg | | potassium: 345mg | | fiber: 2g | | sugar: Fourg | | Vitamin A: 1119IU | | Vitamin C: 3mg | | calcium: 185mg | | iron: 3mg