Maple bacon pancakes are fluffy buttermilk pancakes sweetened with brown sugar and maple syrup, with crispy bacon inside and on top of the pancake. A real breakfast!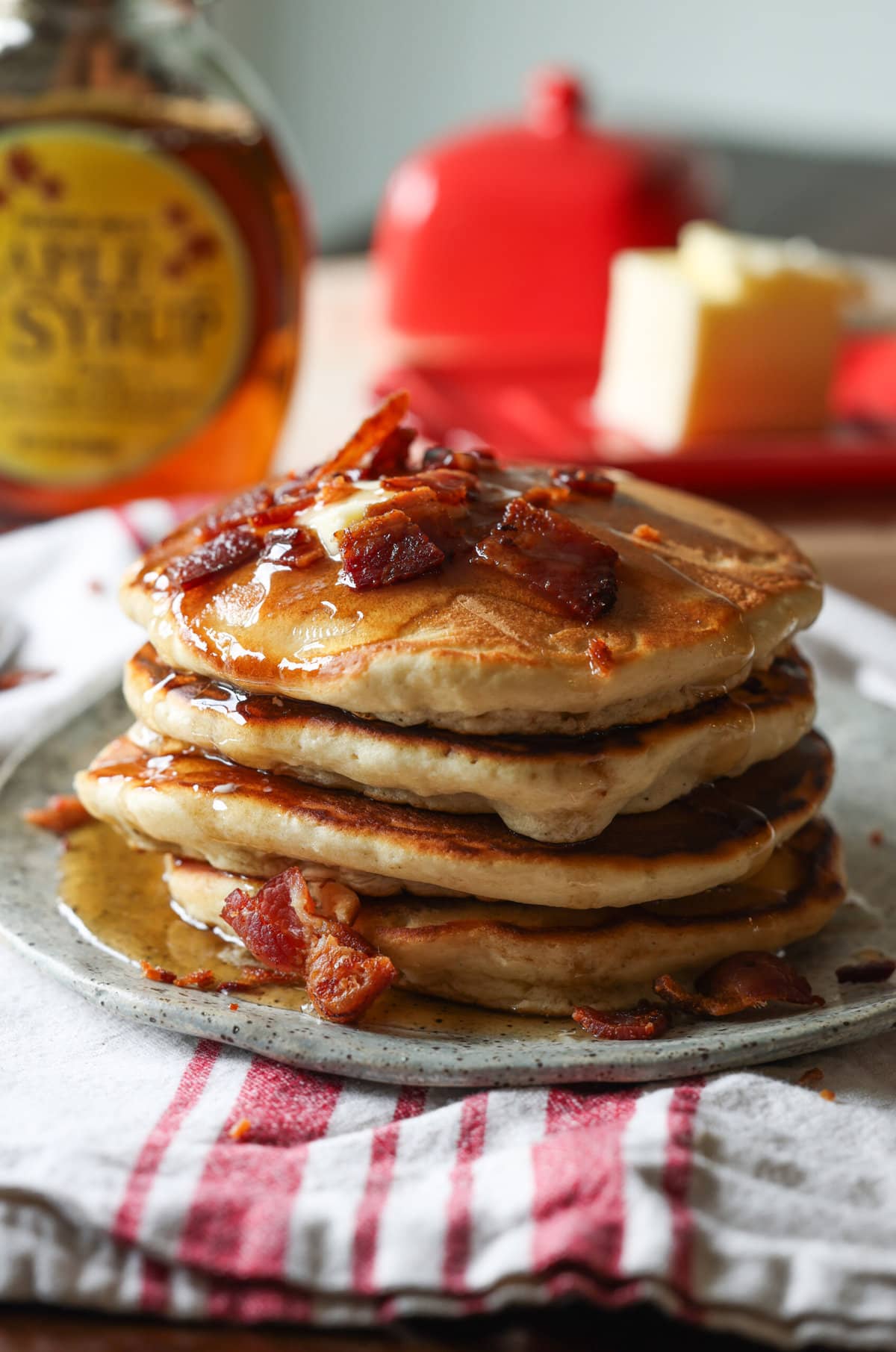 maple bacon pancake
We all love a good weekend breakfast. A few eggs, a stack of pancakes, and a garnish of bacon are the best. But what I decided to do was take my usual pancake stacking to the next level by adding crunchy maple bacon directly to the pancake batter. Let me tell you, I wasn't too sure if this idea would work when I came up with it, but it's been incredible.
I made some pancake dippers similar to this a while ago, but I wanted the pancakes themselves to be a little sweeter and more like a McGriddle. The aroma of bacon, the sweetness of the pancakes, and the maple syrup are very delicious. And the maple bacon pieces in the pancake are just the right amount. I'm not sure I can go back to my usual buttermilk pancakes again.
maple bacon pancake
Go to Imperial Sugar to see the list of ingredients, complete recipe:
bacon. I like to use maple bacon in this recipe for extra maple flavor. However, you can use any bacon you like.
Dry Ingredients: All Purpose Flour, Baking Powder, Kosher Salt
dark brown sugar. If you have light brown sugar, you can use that as well. Be careful not to clump the dark brown sugar.
Maple syrup. You can use pure maple syrup or whatever brand you like, it doesn't matter what kind!
egg. Use large eggs for this recipe.
milk. You can use 2% or whole milk, whatever you have on hand.
vanilla extract. A small amount of vanilla is always suitable for pancakes.
canola oil. You can also use vegetable oil. Any light-colored oil is fine, but I just don't want to use butter in this recipe because it gives a fluffy, light finish. You can use melted butter if you prefer, but butter contains water, which can make pancakes a little heavier.
How to make maple bacon pancakes:
These pancakes are so easy to make, you can even make the bacon first and mix it into the batter! Their total cooking time is short, so you'll have a great breakfast in no time.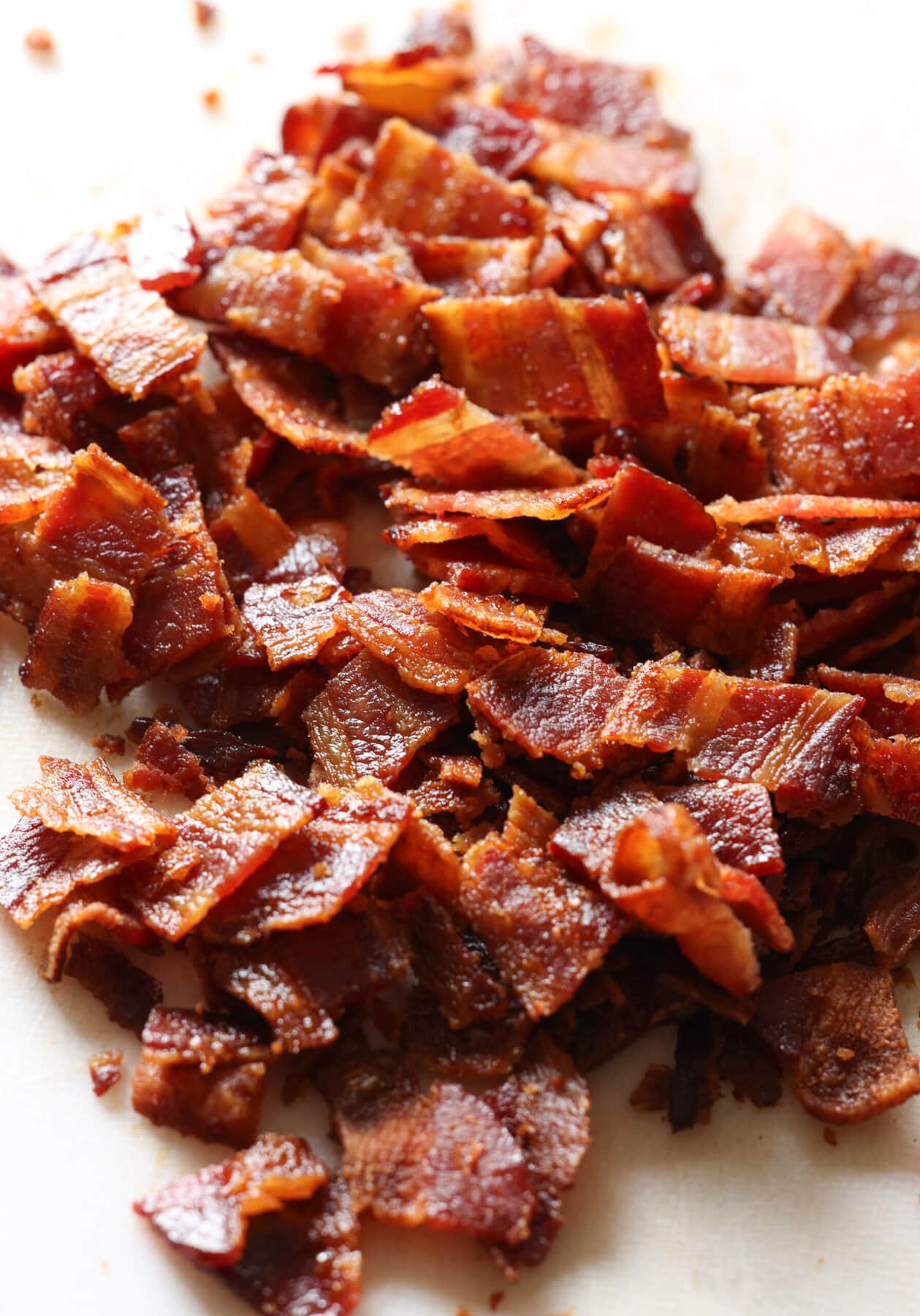 Fry the bacon until crispy. I like to bake my bacon and clean up easily. This recipe uses a whole pound of bacon that fits on my largest baking sheet. Bake at 400°F for about 15 minutes until crisp. My oven doesn't bake evenly, so I rotate the frying pan and move some parts halfway through to keep an eye on it so that it's all baked evenly.
As I said earlier, you're adding batter to the pancake batter, so it needs to be crispy as it will naturally soften as you set it aside.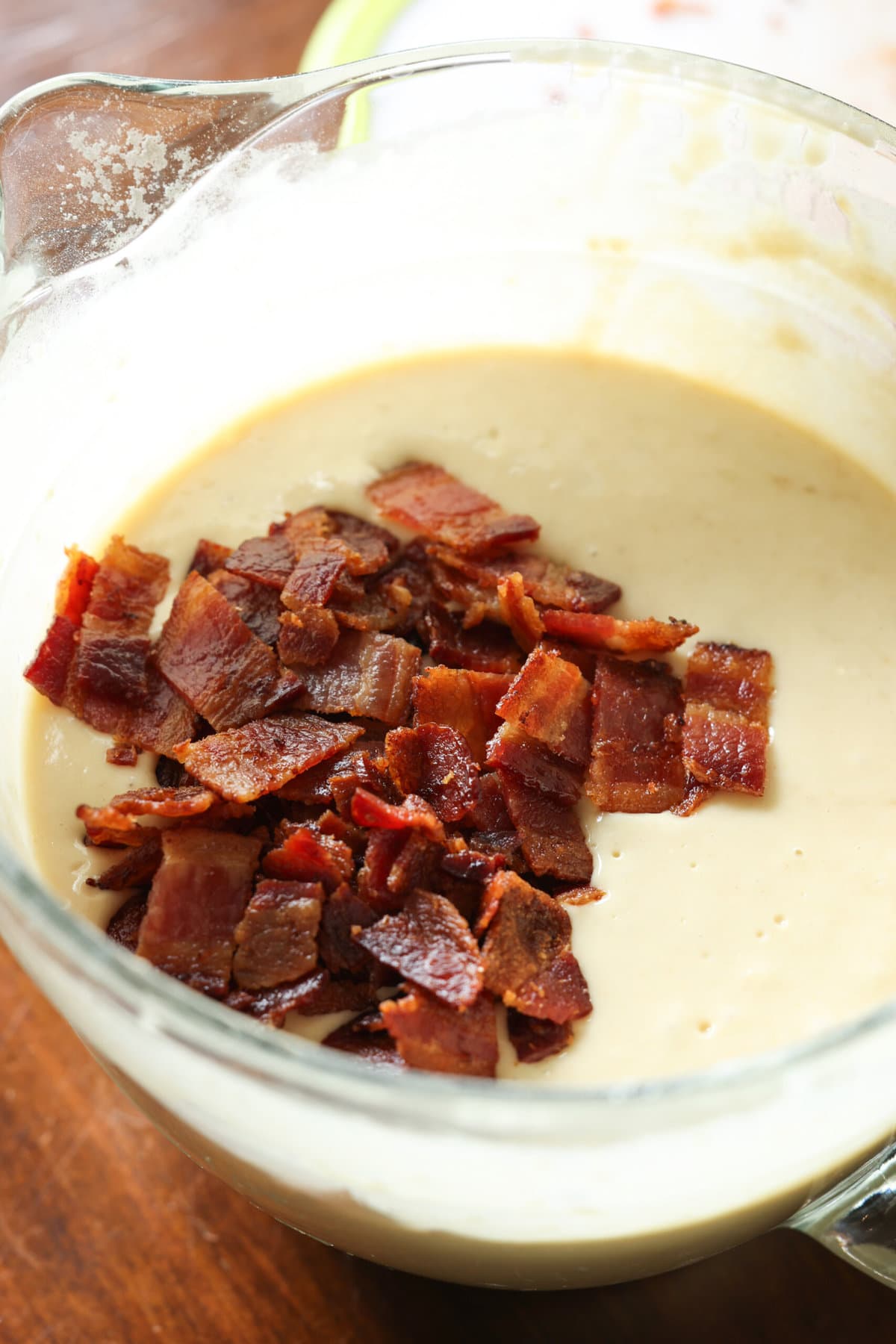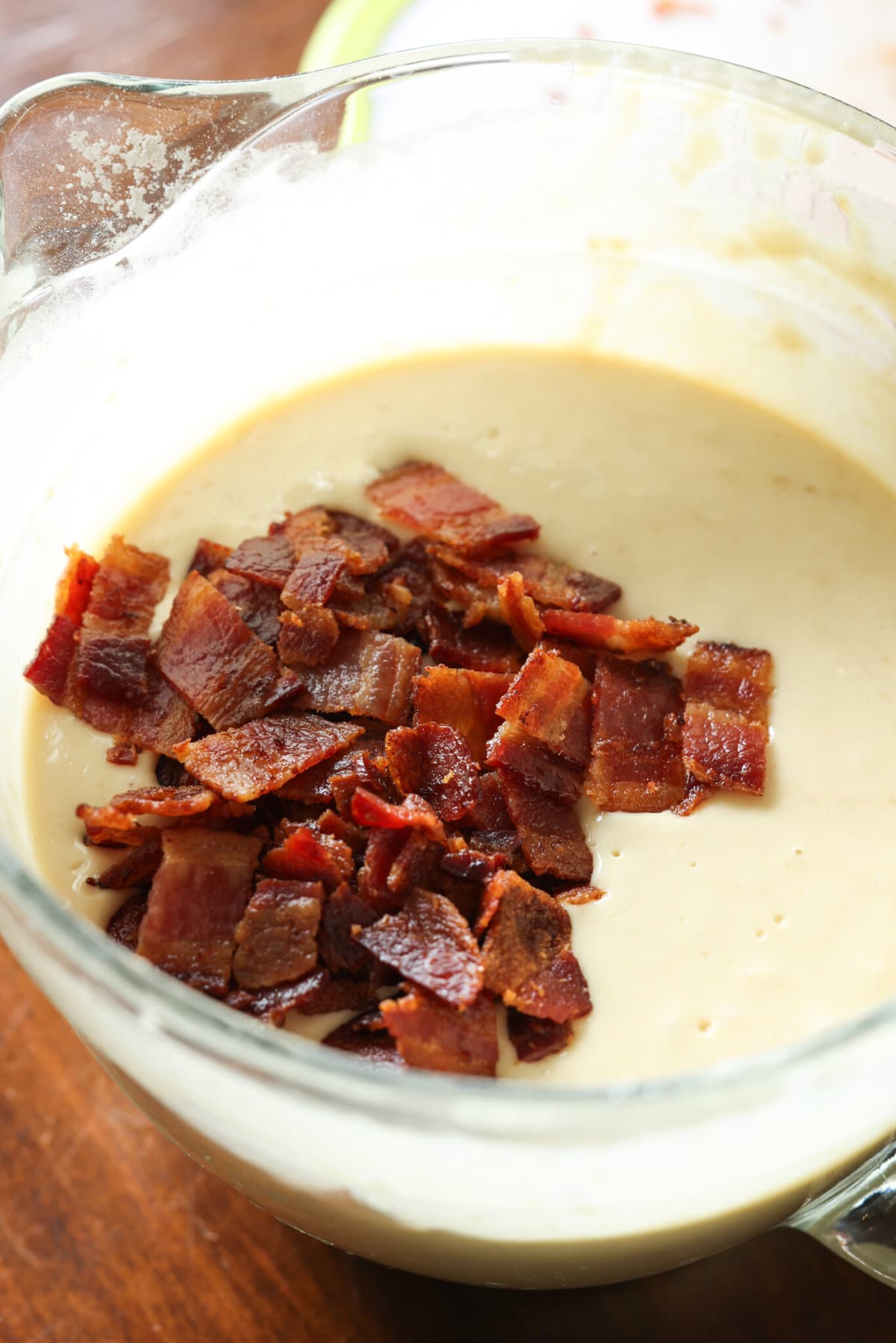 Pancake batter will come together quickly, so maple syrup and dark brown sugar are mixed into the pancake mix for added sweetness and flavor. Whisk wet ingredients separately in medium bowl, then add to dry ingredients in large bowl until lump-free, then add bacon and stir. You can set aside some bacon and sprinkle it on top when you're ready to eat. these are.
Cook the pancakes on a griddle over medium-low heat, making sure the sides have set and the bubbles on top have popped before flipping. I've been impatient many times, but I always end up with dirty pancakes.
Tip: Use a measuring cup to pour the pancake batter onto the griddle or pan so you get the same size pancakes every time.i have pancake dough dispenser I love it, but I recommend not using it in this recipe as it has chopped bacon in the batter that can easily clog up.
click here Check out the full recipe!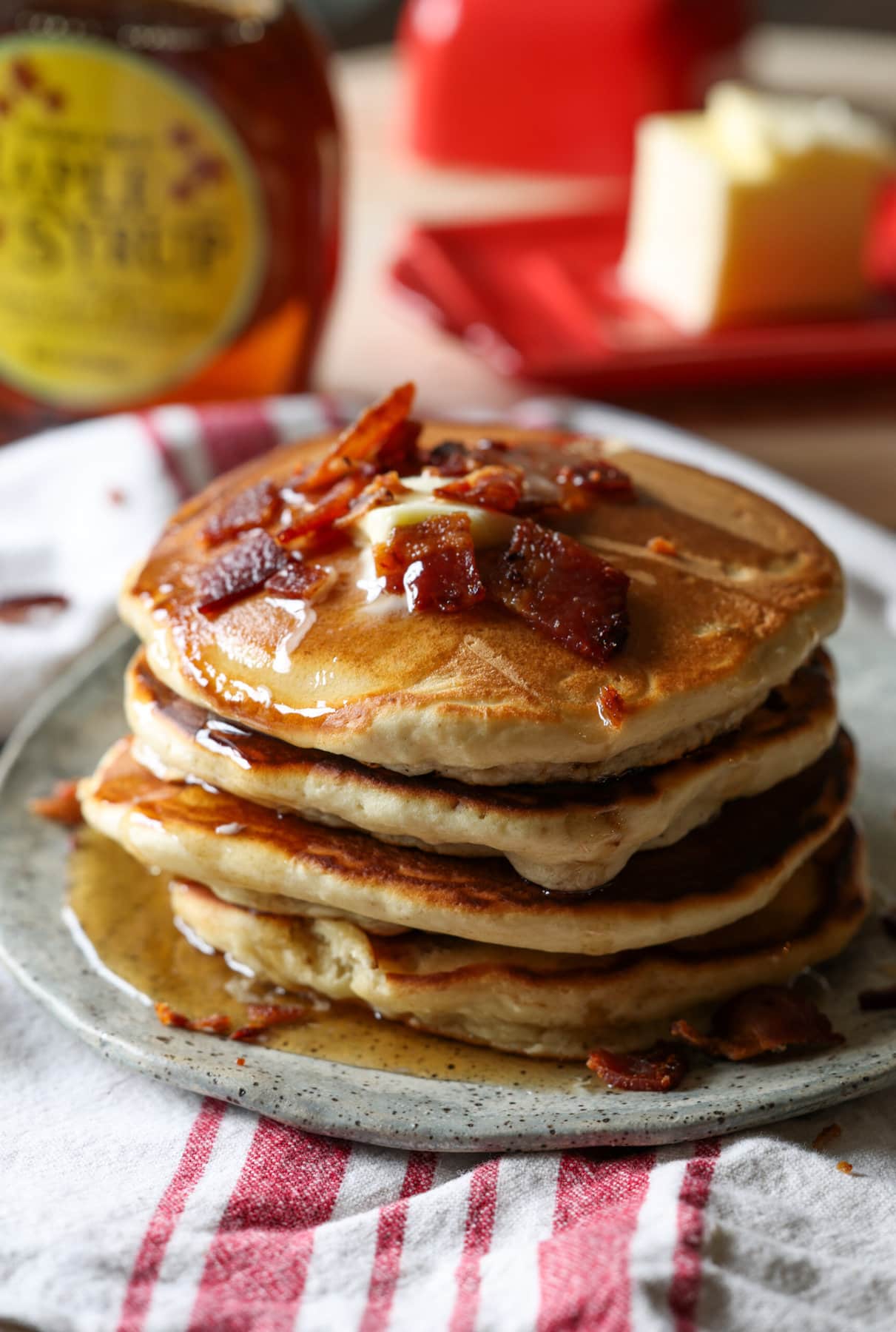 When making pancakes with a group of people
The problem with pancakes is that you can only make a lot at a time unless you have a large griddle. When I make pancakes for my family, I like to cook everything and put it on a large baking tray and "warm" it in the oven so everyone can sit down and enjoy breakfast together.
variation:
You can really get creative with this recipe! It's fun to play around and make something even more fancy. Try adding the following along with the bacon.
chopped pecan nuts
mini chocolate chips
A little cream cheese frosting makes it super delicious
sliced ​​banana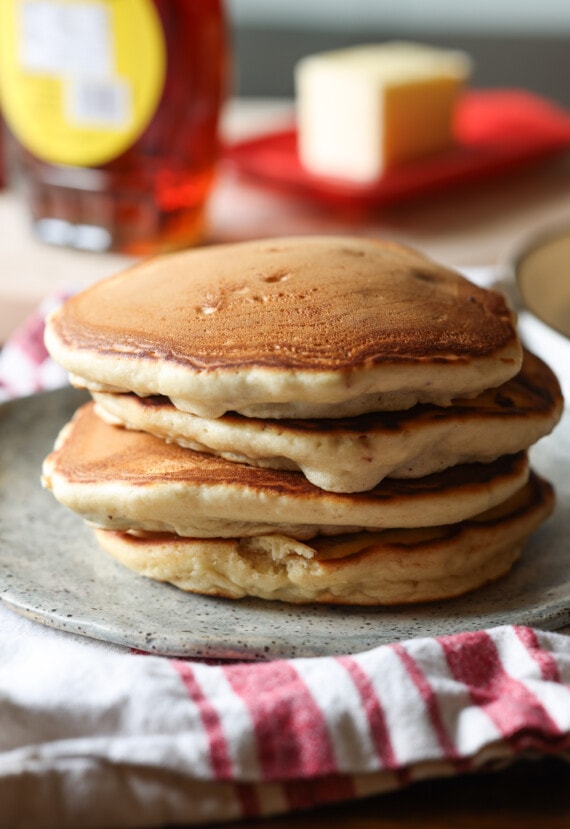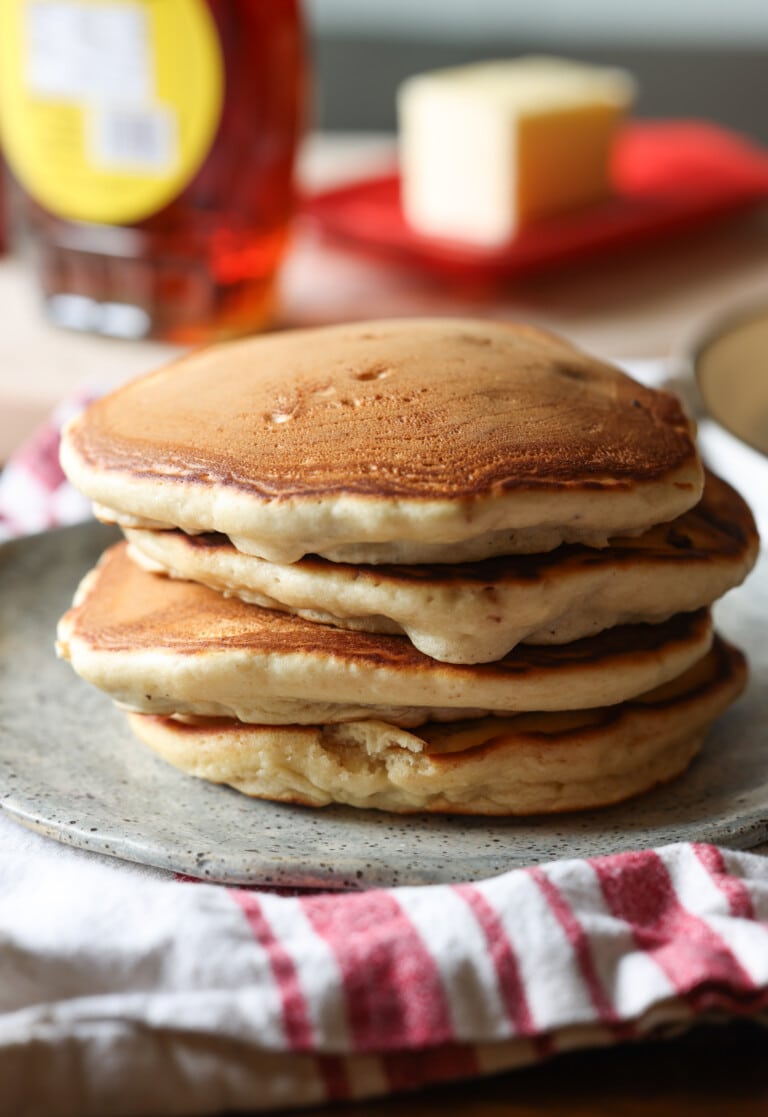 For the full recipe, visit Imperial Sugar.
Here are some pancake recipes you might want to try:
pin for later: