Experience the magic of Asian cuisine with this exquisite honey walnut shrimp dish. The perfect harmony of crispy shrimp and velvety honey walnut sauce will quickly become a table favorite.
Honey Walnut Shrimp is a true celebration of Asian cuisine, combining the irresistible crunch of perfectly fried shrimp with the rich, sweet flavor of Honey Walnut Sauce. This dish is sure to become a staple in your culinary repertoire as its tantalizing texture and flavor will leave everyone at your table wanting more. Our recipes honor their origins with a modern twist.
cultural significance

Honey Walnut Shrimp has its roots in Cantonese cuisine, a traditional Chinese regional cuisine known for its emphasis on fresh ingredients, complex cooking techniques and subtle flavors. This dish showcases the Cantonese love of seafood and mastery of frying, creating a harmonious blend of flavors and textures. A favorite of Chinese-American cuisine, Honey Walnut Shrimp is a favorite in restaurants and home kitchens as a symbol of the fusion of cultures and the constant evolution of culinary traditions.
Originating in the Guangdong province of China, Cantonese cuisine is characterized by its vast variety of ingredients and its preference for stir-frying, steaming, and stewing as its main cooking methods. However, some aspects of traditional Cantonese cuisine, such as the consumption of shark fin soup, have raised controversy and ethical concerns due to the cruel practices of finning and its impact on global shark populations. , there is a renewed interest in preserving and promoting traditional Cantonese cooking techniques and ingredients, while also embracing modern, sustainable and ethical practices. This evolution of Cantonese cuisine demonstrates the adaptability and resilience of culinary traditions in navigating both historical challenges and contemporary concerns.
FAQ

What size shrimp should I use for this recipe?
Extra-large or jumbo shrimp are great for this recipe as they provide a satisfying bite and hold up well during the frying process.
Can I use an air fryer instead of frying the shrimp?
Yes, you can use an air fryer to cook shrimp. Preheat the air fryer to 400°F, place the coated shrimp in a single layer in the air fryer basket, and cook for 8 to 10 minutes or until golden brown and cooked through. Be sure to flip the shrimp halfway through cooking time to ensure even browning.
Are there dairy-free options for Honey Walnut Sauce?
absolutely! Instead of heavy cream, you can use coconut cream or dairy-free alternatives such as oat milk or soy milk. The sauce remains creamy and delicious while accommodating dairy-free diets.
Can I use other nuts instead of walnuts?
Yes, you can substitute walnuts with other nuts such as pecans or almonds. Just follow the same steps to glaze and cook nuts for a delicious variation on the traditional Honey Walnut Shrimp recipe. .
serving suggestions

Honey Walnut Shrimp pairs beautifully with steamed jasmine rice or noodles for a complete meal. You can also make it a feast.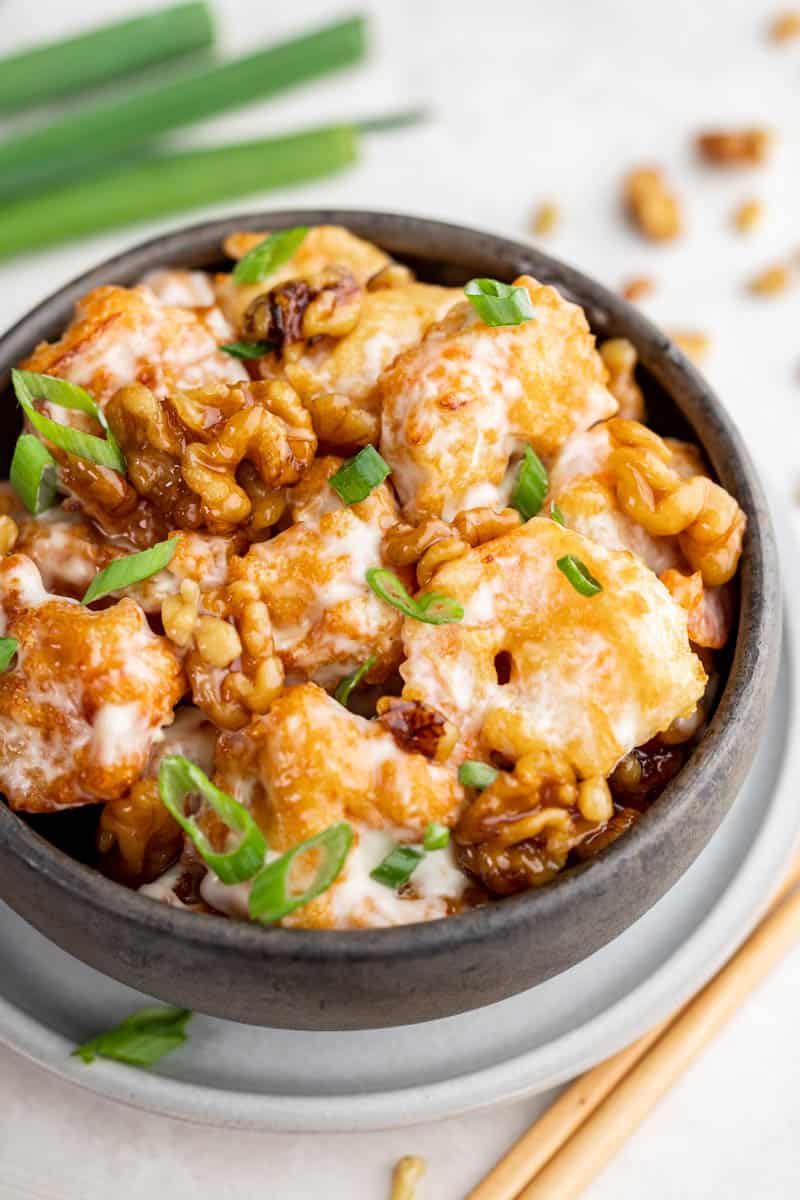 Storage and reheating instructions

Leftover honey walnut shrimp can be stored in an airtight container in the refrigerator for up to 3 days. To reheat, place shrimp on baking sheet and bake at 350°F for 10-12 minutes or until thoroughly cooked. and drizzle over the reheated shrimp just before serving.
Experience the richness of Chinese cuisine at Made With Lau

For those who want to enjoy more authentic Chinese cuisine. made with lau – Run by the Lau family – sharing generations of Chinese food knowledge and experience. Their recipes and cooking tips are rooted in cultural authenticity and provide valuable insight. A great way to expand your culinary horizons and appreciate the art of Chinese cuisine.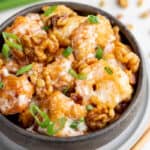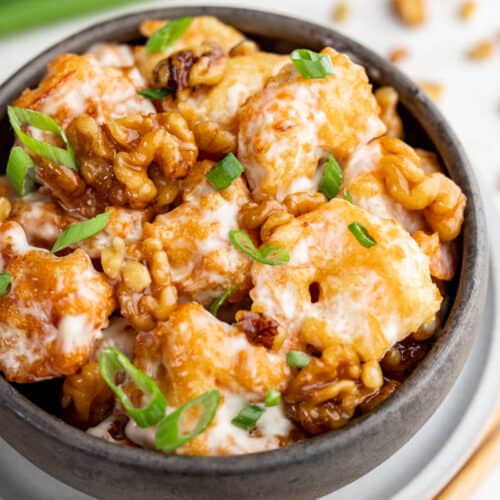 Experience the magic of Asian cuisine with this exquisite honey walnut shrimp dish. The perfect harmony of crispy shrimp and velvety honey walnut sauce will quickly become a table favorite.
material
shrimp:
1 1/2

lb

extra large or jumbo shrimp

Four

white meat

1/4

cup

bread crumbs

2

tablespoon

cornstarch

1

tea spoon

garlic powder

1

tea spoon

salt

1/2

tea spoon

white pepper

vegetable oil for frying

1/4

cup

sliced ​​green onion

option
Honey Walnut Sauce:
1/2

cup

mayonnaise

1/4

cup

heavy cream

2

tablespoon

Honey

1

tablespoon

lemon juice
Glazed Walnut:
1

cup

brown sugar

1

cup

walnut

1/2

cup

water
procedure
Make honey cream sauce: Mix mayonnaise, fresh cream, honey and lemon juice in a bowl. set aside.

Peel and devein the shrimp. In a medium mixing bowl, whisk together the egg whites. In another bowl, add the bread crumbs, cornstarch, garlic powder, salt and white pepper and mix.

Dip the shrimp into the egg white mixture, coat with the dry mixture, and set aside.

Pour 2 inches of vegetable oil into a large, thick-bottomed pan and heat to 350°F. Working in small batches, fry shrimp until completely golden brown, about 2 to 3 minutes. Drain on a plate lined with paper towels.

Toss fried shrimp with honey walnut sauce and sprinkle with glazed walnuts. Garnish with sliced ​​scallions, if desired, and serve immediately.
Glazed Walnut:
Add the walnuts, brown sugar and water to the pot and mix. Bring to a boil over high heat and boil for about 5 minutes.

Strain excess liquid and place walnuts on a parchment-lined cookie sheet to dry and cool.
calorie: 563kcal | | carbohydrates: 51g | | protein: twenty twog | | obesity: 32g | | saturated fat: 6g | | Polyunsaturated fat: 18g | | Monounsaturated fat: 6g | | Trans fat: 0.04g | | cholesterol: 162mg | | sodium: 1215mg | | potassium: 337mg | | fiber: 2g | | sugar: 43g | | Vitamin A: 408IU | | Vitamin C: 2mg | | calcium: 130mg | | iron: 1mg