Everyone needs a delicious spring pasta salad in their repertoire. For colorful and packable pasta, taste Such as beach days and picnics in the park. That said, a family reunion-style macaroni salad, made with mayonnaise and served at room temperature that is highly questionable, is a tough pass for me. Made with green olives, artichoke hearts, lemon, and lots of shaved palm, it has a tangy, salty punch that elevates it to summer dinner party status. Read on to find out how this very green spring pasta salad fits together, plus some tips for a successful pasta salad.
The inspiration for this pasta salad actually came from one of my favorites. pizza and Gelina, IMHO is the best Italian spot in LA. With green olives, guanciale (Italian cured meats) and chilli for heat, the combination is absolutely addictive. I wanted to achieve the same flavor profile in pasta form, substituting guanciale and parmesan for the crunchy bacon instead of mozzarella. To get the perfect combination of delicious flavors in every bite.
How to make a spring pasta salad
Recipes made for refreshing warm-season gatherings should be just as refreshing to make, so we made this pasta salad super easy — you can toss it together in less than 30 minutes. .
First, you want to boil the pasta, so bring the pasta water to a boil and let it cool slightly before adding to the rest of the ingredients.
While the pasta is cooking, add parsley, lemon zest and juice, shallots, garlic, and olive oil to a blender for a light, tangy dressing. I dilute it a bit with hot water, then blend it and store it in a mason jar until I'm ready to use it.
Grab the largest serving bowl I have and add some boiled and drained pasta, along with green olives, artichokes, crumbled bacon and pistachios (this crunch is absolutely essential).
Next, generously pour in the green dressing with salt and pepper, toss it until each piece of pasta is lightly coated, then add a handful of arugula and a ridiculous amount of shaved Parmesan cheese. Toss, add as much heat as you like with the red pepper flakes, and the roll is ready.
Bring a potluck or picnic
People often ask me what to bring to gatherings, and this pasta salad just so happened to be the perfect match. potluck side.
For one, it can be made completely in advance and holds beautifully when transported. Back in the days of catering, after sitting at a buffet for an hour, I quickly learned which dishes were just as good compared to the sad, wilted ones. The pasta salad turned out to be one of her more hearty options.
This is also a very versatile dish that will please children and adults alike. I attended a pool party last weekend and everyone came back and took home the leftovers.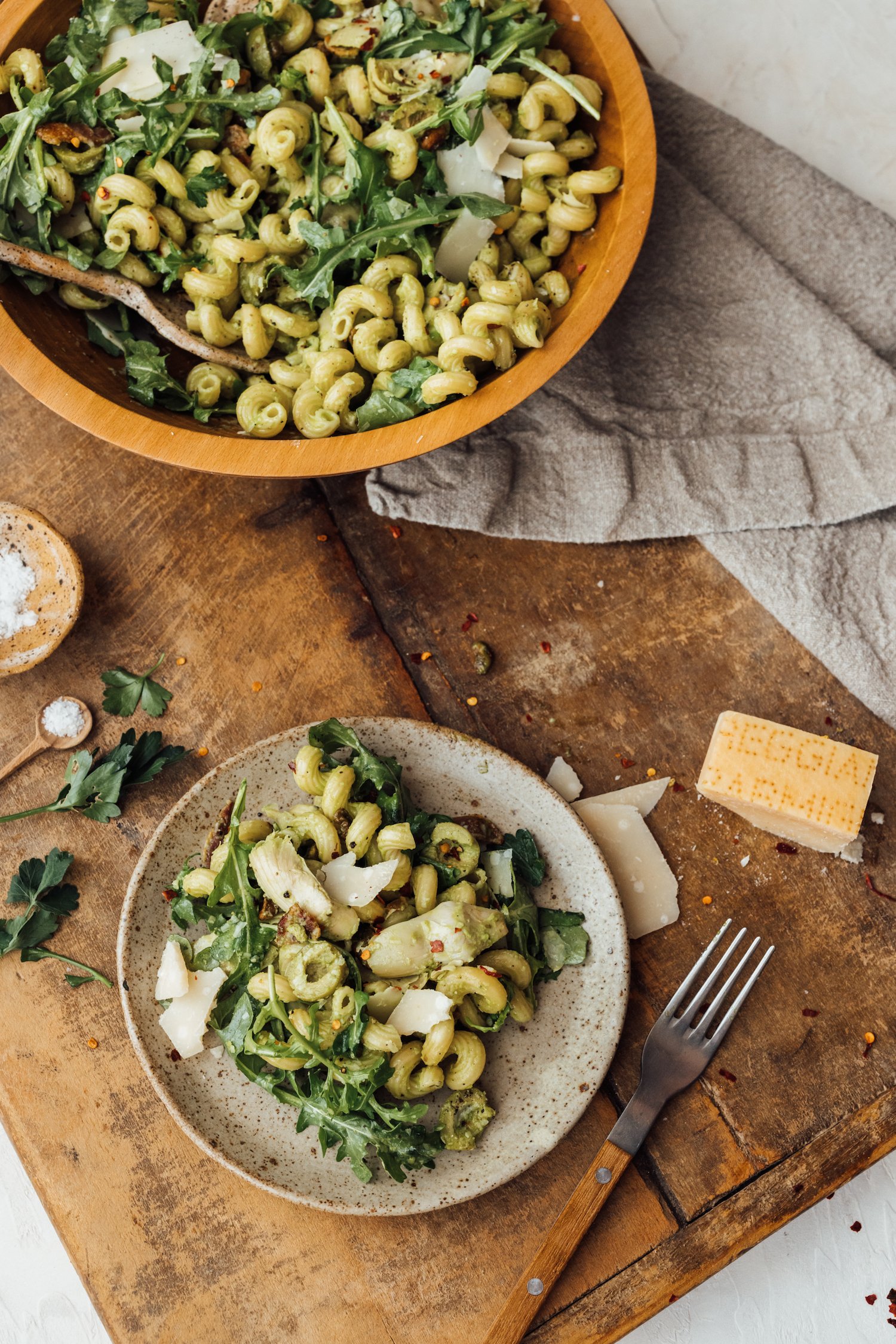 Tips for success
There are a few things you need to know to make this recipe a home run.
What to accompany this spring pasta salad
For a simple weekday dinner, this pasta salad is hearty enough for a single plate meal. Combined with chilled rosé wine, it's the arrival of spring in earnest.
For gatherings, I love grilling marinated chicken, salmon, or steak to accompany this.
How to store leftovers
In my experience, this pasta salad tastes just as good the next day. Store leftovers in an airtight container in the refrigerator and serve chilled or at room temperature.
Ideas for exchanges and changes
This pasta salad is the perfect dish to tweak to suit seasonal ingredients and tastes. Some ideas:
Omit the bacon and go vegetarian.
Add a small ball of fresh mozzarella to turn it into an antipasto salad.
Replace green vegetables with olives and artichokes. Blanched sugar snap peas, grilled zucchini, and lightly cooked broccoli all make delicious additions.
Any short pasta like gemelli, fusilli, or penne works well with this dish.
Other Spring Pasta Salads You'll Love:
We obviously love warm season pasta salads around here. These are some other favorites from our archive.
Pasta salad with feta and tahini dressing
grilled vegetable pasta salad
Scroll through the recipes, and if you make this springtime pasta salad, leave us a rating and a comment below.
Print
explanation
Pack this bright and tangy springtime pasta salad for every picnic in any season.
---
1

lb

Cavatappi or other curly short pasta cooked according to package directions

1/2

cup

green olives, halved (buy seeded Castelvetrano or Serignola)

1/2

cup

chopped roast and salted pistachios

2

–

3

crispy bacon peeled and crumbled

1/2

cup

artichoke hearts, quartered
Spring green dressing (bottom)

2

cup

arugula
kosher salt and freshly ground black pepper
red pepper flakes, to taste
Plenty of freshly grated parmesan cheese
For green dressing:
1/2

bunch of parsley

2

lemon, zest, juice

1/2

shallot

1

garlic

3/4

cup

Olive oil

2 tablespoons

Honey

2 tablespoons

hot water
salt and pepper
---
First, make the dressing by mixing all the ingredients in a blender. Store in a mason jar and refrigerate until use.
Place the cooked pasta into a large bowl.
Add olives, pistachios, bacon, artichoke hearts and drizzle with dressing.
Add dressing if desired.
Add arugula, red pepper flakes, and Parmesan cheese. Toss lightly to taste for seasoning.
Pass more red pepper flakes and Parmesan cheese at the table.
Note
You can make this pasta salad ahead of time. Mix all ingredients and store in refrigerator until serving.
Use your favorite short pasta, such as gemelli, fusilli, cavatappi, or penne.
Go vegetarian by omitting the bacon.
Double or triple the recipe to serve a large crowd.
Preparation time:

30

Cooking time:

Ten

Category:

pasta, side dish
keyword: Spring pasta salad, easy side dishes, potluck side dishes