Made with butter, brown sugar, vanilla and delicious chocolate candy, this M&M cookie recipe is easy to make and even easier to eat. It takes only 20 minutes to make a quick snack!
We've all had the experience of going through a time when not only a little extra sugar was needed, but it was essential. Satisfy your cravings in the best possible way – homemade M&M cookies. They're made with simple pantry ingredients you probably already have at home, plus a little extra – M&M candy. Feel free to use any flavor you like (more on that below). It takes only 10 minutes of prep work to make the dough and about 10 minutes in the oven.
Can I bake with regular M&Ms?
surely! They are the star of this recipe. Candy can keep its shape thanks to the outer coating. It acts as a protective layer against the heat of your oven so you don't have to worry about it melting and making a mess.
M&M flavor variations:
Feeling adventurous? Switch up the taste with special M&M! Some of our favorite M&M flavors are:
caramel
peanut butter
peanuts
coconut
Troubleshooting: Why is my M&M cookie flat?
If you end up with a perfectly flat cookie, it could be an indication that your oven is too hot. Overheating can cause the butter to melt before the rest of the ingredients. If you bake according to the directions on the recipe card (350°F for 10 minutes), you won't run into this problem.
How can I make my cookies thicker?
There are a few things you can do to thicken your M&M cookie creation.
chill the dough before baking
use chilled butter
don't over mix the butter
Use a silicone baking mat or parchment paper
These techniques, combined with a baking temperature of 350 degrees Fahrenheit, ensure that your cookies won't flatten or spread out too much.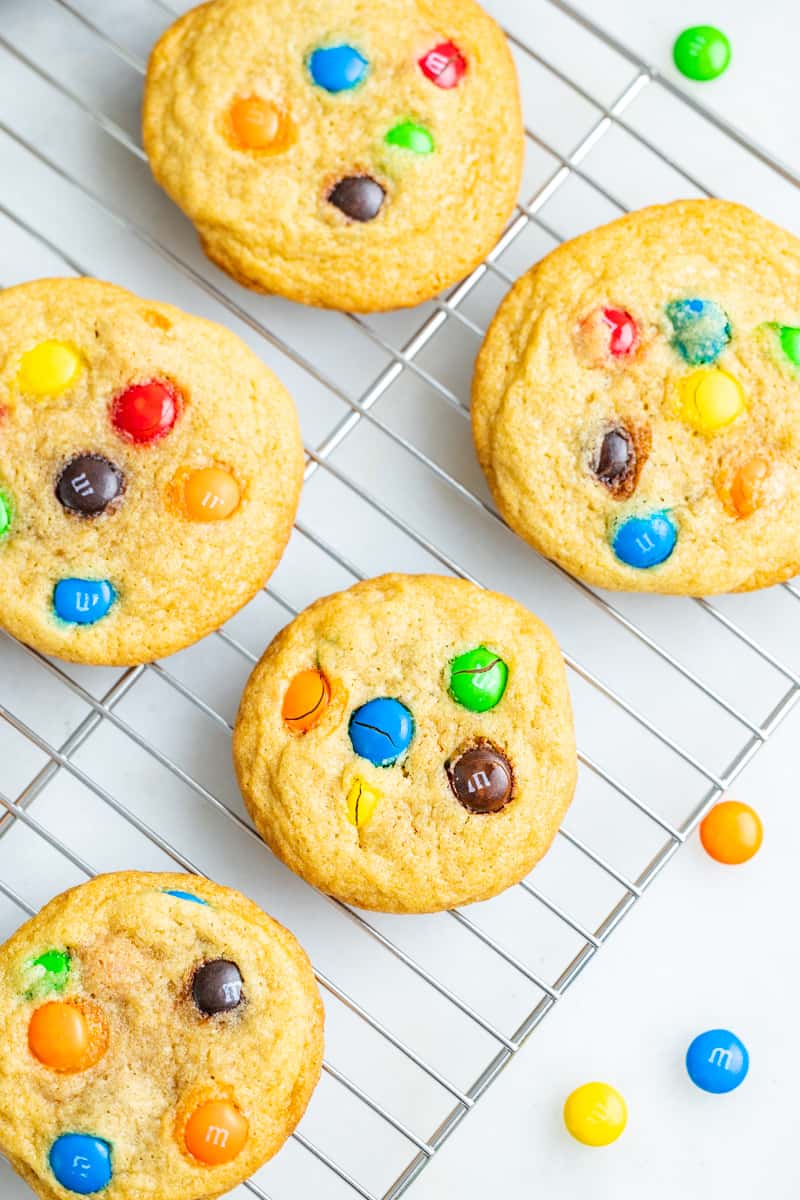 Freezer description:
Since you're already in the kitchen, why not make two batches of these M&M cookies to save for later? For best results, we recommend freezing unbaked cookie dough. . When ready, shape the dough into balls and place on a parchment-lined baking sheet in the freezer. To bake, remove from freezer (no need to thaw) and preheat oven to 350 degrees Fahrenheit. Place cookie dough ball on prepared baking sheet and bake for 12 to 15 minutes.
Storage method:
Store leftovers from this M&M cookie recipe in an airtight container at room temperature for 3 to 5 days.
If you like this recipe, you may also be interested in other delicious cookie recipes: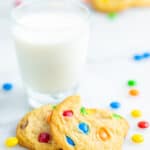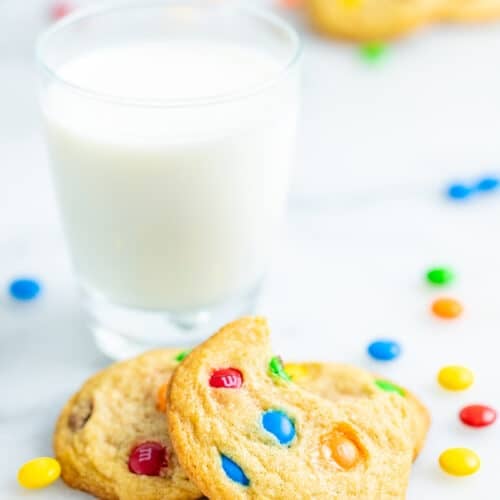 Made with butter, brown sugar, vanilla and delicious chocolate candy, this M&M cookie recipe is easy to make and even easier to eat. It takes only 20 minutes to make a quick snack!
material
1

cup

salted butter

softened

1

cup

brown sugar

tightly packed

1/2

cup

Granulated sugar

2

big egg

2

tea spoon

vanilla extract

1

tea spoon

baking soda

1/2

tea spoon

salt

2 1/2

cup

all purpose flour

1 1/2-2

cup

M&M chocolate candy
instructions
Preheat oven to 350 degrees. Lightly grease 2 baking sheets with nonstick cooking spray or parchment paper.

Put butter, brown sugar and granulated sugar in a large bowl and cream with a hand mixer.

Add eggs and vanilla. Beat until smooth.

Mix baking soda, salt and flour. Mix until you have a clean dough. Stir the M&Ms with a spoon.

Take 2 tablespoons of the dough and quickly shape it into a ball of dough with your hands and place it on the prepared cookie sheet – 12 cookies per pan. This recipe makes a total of 24 cookies. .

Bake in preheated oven for 10-12 minutes until browned. Do not overcook.

Remove pan from oven and allow cookies to cool on pan for 3-5 minutes, then transfer to wire rack to cool completely. When cooled, store in an airtight container.
Serving: 1cookie | | calorie: 260kcal | | carbohydrate: 35g | | protein: 3g | | thick: 12g | | saturated fat: 8g | | Polyunsaturated fat: 0.4g | | Monounsaturated fat: 2g | | Trans fat: 0.3g | | cholesterol: 38mg | | sodium: 175mg | | potassium: 35mg | | fiber: 1g | | sugar: twenty fourg | | Vitamin A: 298IU | | Vitamin C: 0.1mg | | calcium: 34mg | | iron: 1mg