this Thai quinoa crunch salad This is my favorite quinoa salad recipe! It's a healthy dish packed with umami and texture, and it's a perfect recipe for a light dinner, lunch, or as a side dish!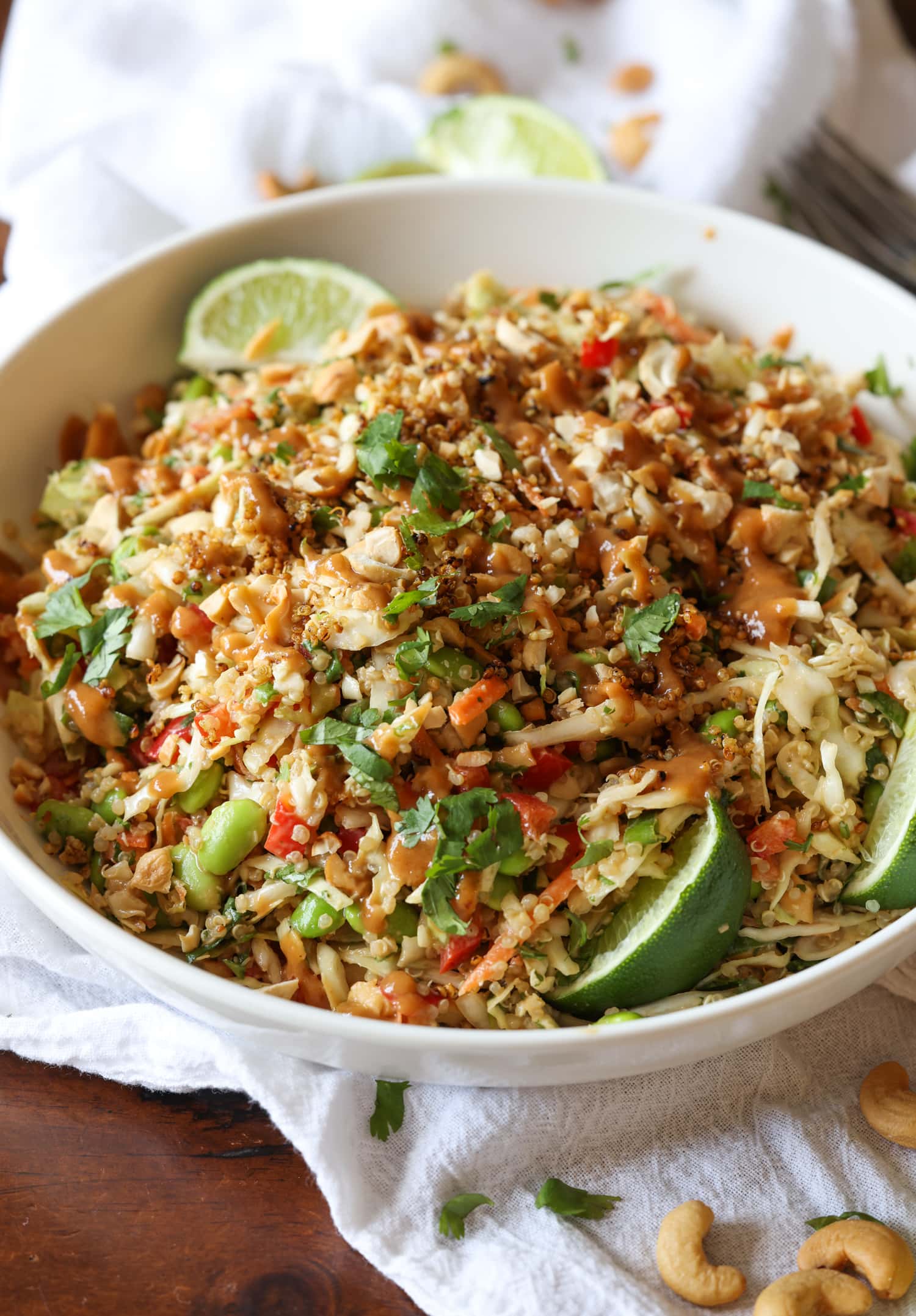 This protein-packed Thai Quinoa Salad recipe is bursting with flavor!
This summer, I fell in love with chopped salads. So when I thought about making a Thai style salad, I tried to pack in as many flavors as possible!
And I loved the idea of ​​not only adding quinoa to the crunchy salad, but adding crispy quinoa on top to make it even more crunchy! Crunchy cabbage, carrots, edamame beans and red peppers pair beautifully with a simple peanut butter Thai dressing, balanced by salty cashews and hearty quinoa. I definitely think this is a power salad!
What I like best:
Full of protein and flavor!
Add salmon, chicken, or steak on top for a truly complete meal.
Make it early in the week and have it for lunch the next day. The salad is as crisp as the dressing!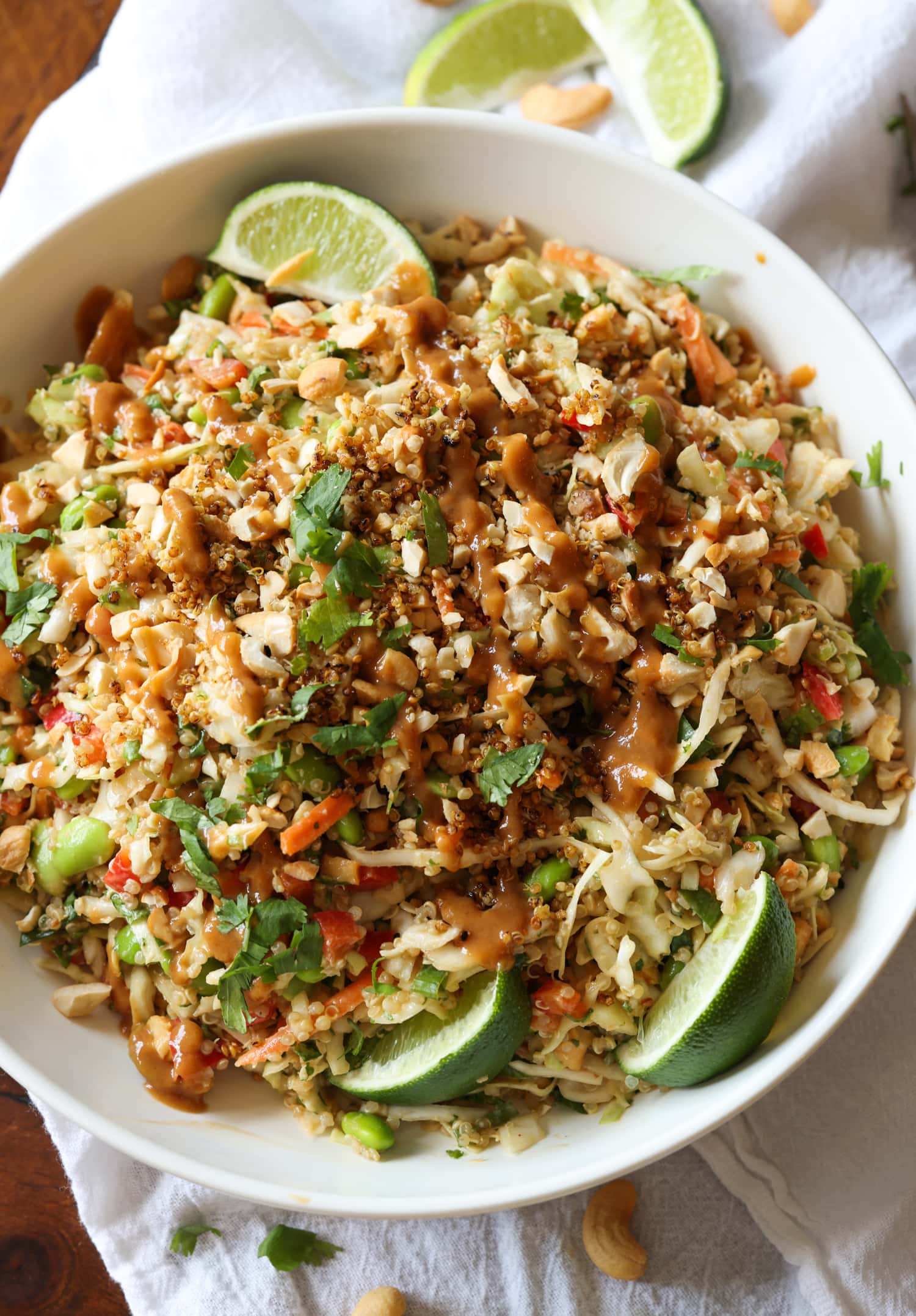 What materials do you need?
Of course, you need lots of veggies, but the protein-packed ingredient in this salad is quinoa! This is an excellent product that not only increases the volume of salads, but also adds dietary fiber and iron! Quinoa has a natural nutty flavor and pairs amazingly well with peanut dressings on salads. I love this flavor combination and you will too!
And, of course, besides quinoa, it adds a ton of great veggies, including:
cabbageI actually love using prepackaged coleslaw mix for this salad. This is always my shortcut! Plus sliced ​​carrots in the coleslaw mix! You can easily chop the cabbage and carrots yourself if you prefer.
red bell pepperThe sweetness and crunchiness of red bell peppers are essential to this salad. Orange or yellow peppers can definitely be used as well.
green onionI'm not a huge onion fan, but some sliced ​​scallions in this add another layer of flavor, not overpowering.
EdamameI love edamame and love adding it to this salad. If you're not a fan, you can certainly leave it out, but it's another protein-packed ingredient that I adore.
corianderEveryone knows whether they love or hate coriander. I love it so much that I always add extra, but if you're not on cilantro, omit it completely!
cashew nutsI'm a salty girl, so I use salted cashews, but feel free to use unsalted if you prefer.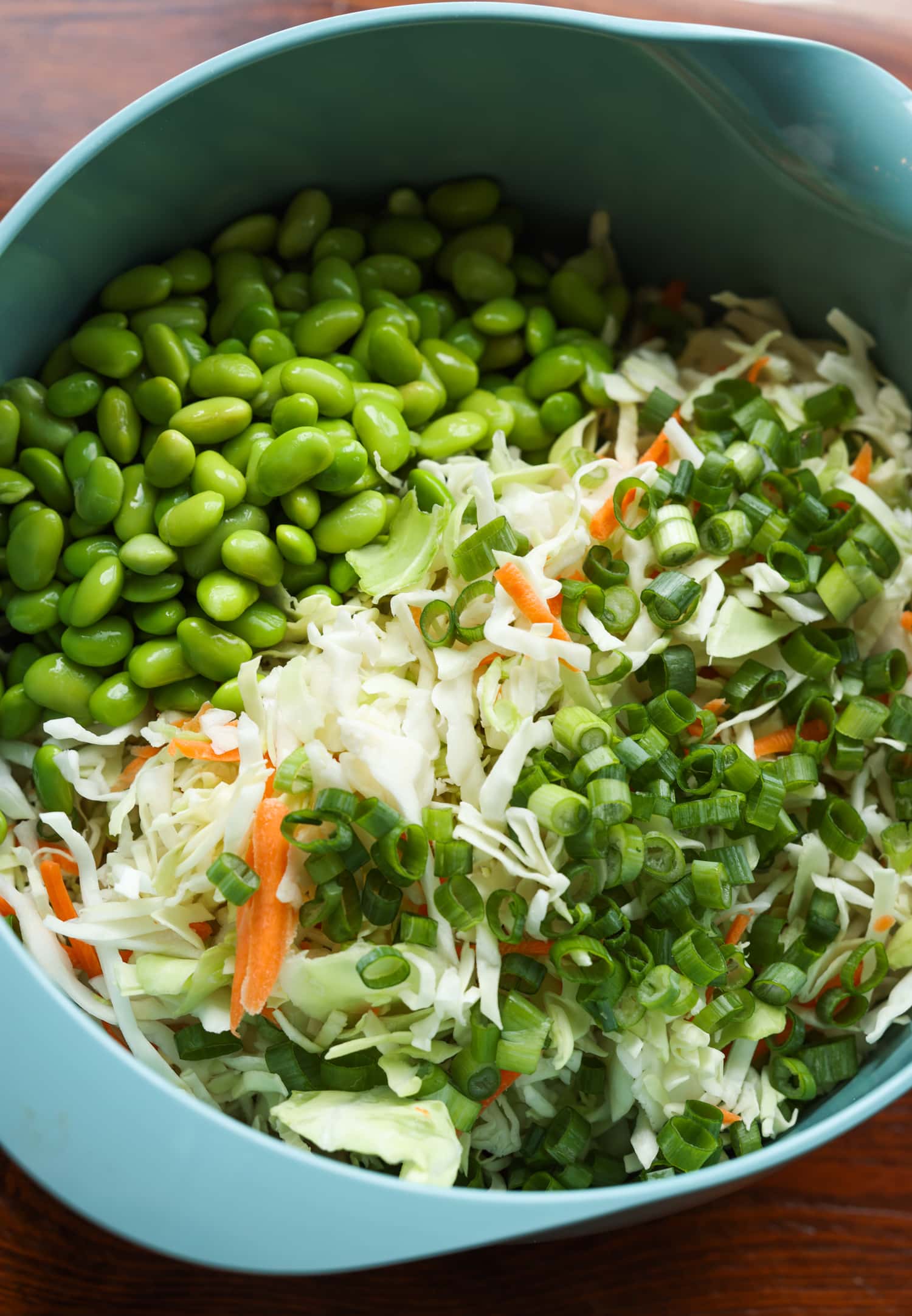 How to make Thai dressing:
The dressing is super easy and just a few ingredients you probably have in your kitchen right now will suffice. Just whisk them all together and that's it! Here's what you need: Add some substitutions if needed.
peanut butterI like to use creamy, but you can definitely use crunch and you can certainly use almond butter, or nut butter instead.
soy sauceUse reduced-sodium soy sauce for this recipe. Alternatively, you can replace it with coconut aminos, or tamari.
HoneyYou can also substitute agave syrup or maple syrup.
red wine vinegarYou can also use rice vinegar, rice vinegar, white wine vinegar, or apple cider vinegar.
fresh lime juiceYou can also use fresh lemon juice, of course. If you don't have fresh lime juice, you can use the bottled one, but I always recommend fresh.
grated gingerYou can also use ginger paste that comes in a tube, small frozen ginger cubes, or ginger powder.
chili pasteI use Sambal Oelek, but any brand will do. You can also use sriracha.
olive oil and sesame oilThere is really no sesame oil sable and it gives a very nice flavor.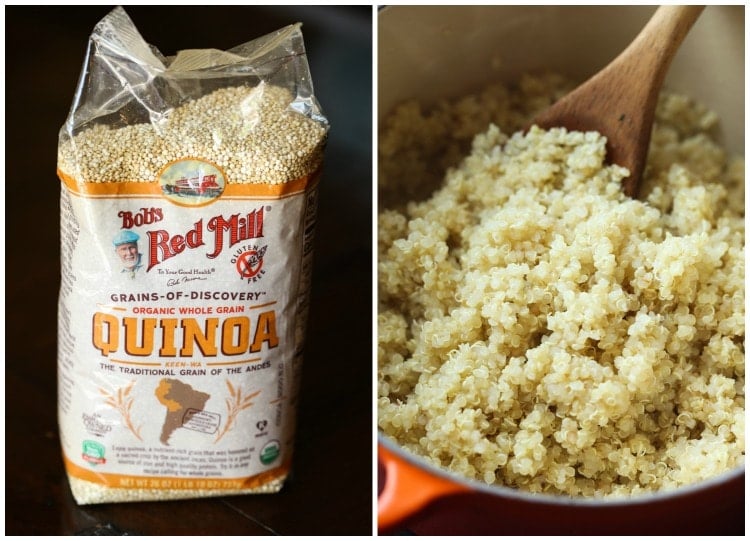 How to make Thai Quinoa Crunch Salad
This is a great salad recipe to make for lunch, a light dinner, or as a side dish. You can even set the dressing aside if you want to prepare your salad perfectly and eat it all week long!
Just chop all the veggies, cook the quinoa and mix!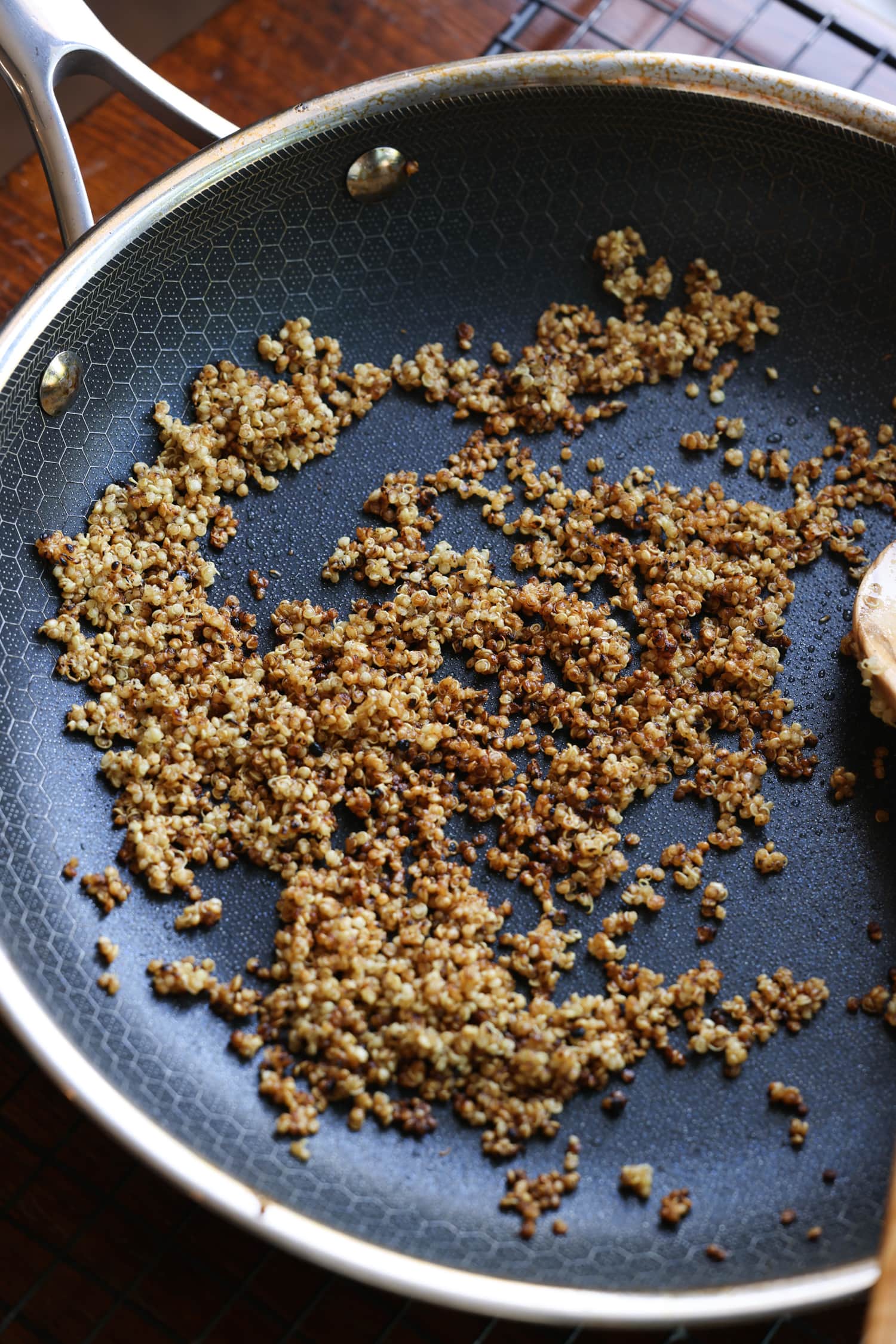 make quinoa crunch
The quinoa crunch is my favorite part of this salad. yeah!
Once the quinoa is cooked, fluff it with a fork, heat a skillet with a little oil and toast the quinoa until golden brown and crisp. Allow to cool, then add as a garnish on top. The crispy quinoa will become softer if you add it to the dressing, so add it just before eating!
Make your own / Variations:
This is an easy salad recipe that you can adapt and make your own! Here are some ideas:
shredded chicken
Soba
minced pork
shrimp
shredded kale
mango
mint leaves
Add a little fish sauce to the dressing for a little extra flavor.a little goes a long way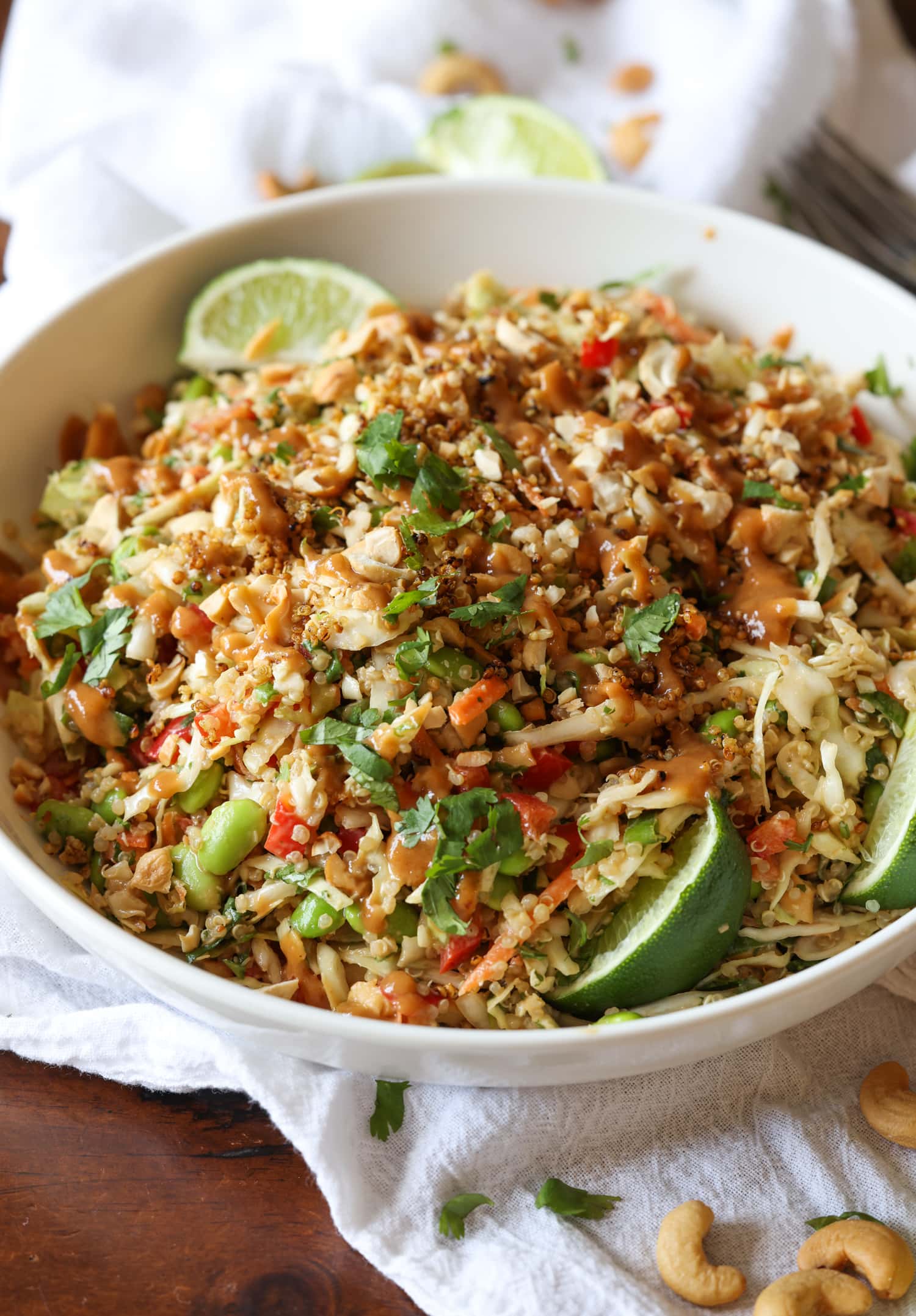 What can I serve with this quinoa salad?
Like I said, this salad is great as a main dish, but it's also a great side dish.
Yakitori. Or any kind of chicken, really!
hamburger. of course. I think this is the perfect salad to go with anything but the grill!
shrimp. Bake, skewer, steam…it's up to you!
steak. A nice sliced ​​flank steak would be great sliced ​​on top of this salad!
Looking for more salad recipes? Try these:
Print
---
explanation
This Protein Packed Thai Quinoa Salad recipe is great as a side dish or snack. The crunchy quinoa on top is my favorite part!
---
dressing
1/4 cup

creamy peanut butter

3 tablespoons

Reduced salt soy sauce

1 tablespoon

Honey

1 tablespoon

red wine vinegar

1 1/2

–

2

tbsp fresh lime juice (juice of

one

lime)

2 teaspoons

grated ginger

1 teaspoon

chili paste

1 tablespoon

Olive oil

1 teaspoon

sesame oil
salad
2 cups

Cooked quinoa, cool and divide (approximately

3/4 cup

Living)

1 tablespoon

Olive oil

1

(14 oz) package coleslaw mix

1

diced red bell pepper

1/2 cup

green onion, diced

2/3 cup

chopped coriander

1 1/2 cups

Peeled green soybeans

1/2 cup

chopped salted cashew
Optional garnish – chopped coriander, chopped cashews, sriracha or chili paste
---
prepare the dressing: Place peanut butter and soy sauce in a microwave-safe bowl. Heat for 10 seconds to thin a little and mix with a whisk. Mix remaining dressing ingredients. If you want more spice, add chili paste. If the dressing is too thick, add 1 teaspoon of water until the desired consistency is reached. set aside.
make crispy quinoa: Add oil to a non-stick frying pan and heat over medium-high heat. Add 1/2 cup cooked quinoa to skillet and cook, stirring frequently until golden brown and toasted, 10 to 12 minutes.
assemble the salad: Put the remaining quinoa in a large bowl. Pour half of the dressing over the quinoa and stir to coat. Add the coleslaw mix, red bell pepper, onion, cilantro, and edamame in the same bowl. Combine the quinoa and vegetables and mix the salad. Add remaining dressing, or desired amount, to salad and toss to coat. Finally, add the cashew nuts and mix lightly.
Divide salad into bowls and top with toasted quinoa and additional garnish.
Serve immediately.
---
Note
You can store it tightly in the refrigerator for up to 2 days.
Crunchy quinoa on top of the salad makes it soft to eat.
nutrition
Serving size:
calorie:

447

sugar:

9.1g

sodium:

460.3mg

obesity:

27.8g

carbohydrates:

39.2g

protein:

15.6g

cholesterol:

0mg
keyword: cookies and cups, salads, salad recipes, quinoa recipes, quinoa salad, thai salad
Find more recipes like this: