Our Creamy Chicken Broccoli Casserole has juicy chicken, tender broccoli, steamed rice, and a perfectly seasoned homemade cream sauce. The ultimate dish to end a busy day, please try it tonight!
There is something very comforting about our chicken broccoli casserole. Whipping it up at home for your family is really special! Plus, it takes less than an hour to assemble. Full of hearty, simple, easy-to-find ingredients. You may already have most of it at home. Casseroles come in many different directions, but today I'm going with light protein, veggies and, of course, cheese! , you will go crazy for the broccoli combination. It's also a great way to sneak in extra greens. It's a meal the whole family loves, and as a bonus, this one-pot meal means you can avoid a ton of dirty dishes.
rice options:
I like to add rice to my chicken and broccoli casserole for a little more richness. I usually use long grain white rice, but feel free to use:
brown or whole grain rice
Quinoa
Cheese options:
I love adding cheese to this easy chicken broccoli casserole. I'm using Colby Jack, but you can also use:
cheddar
monterey jack
Pepperjack (for a little spice)
Vegetable add-ins:
You can add some extras if you want this dish to be a little heavier with vegetables.
Don't be afraid to be creative!
Frozen Broccoli vs. Fresh Broccoli:
We always prefer to work from fresh vegetables, but if you have frozen vegetables on hand, feel free to use them instead. Broccoli will be tender and warm when ready.
Troubleshooting: Sauce too thick
If the heat is a little too hot, or if the dish is too wide and evaporates too much, add more broth, 1/4 cup at a time, until you reach the desired consistency.
Recommended dishes for Creamy Chicken Broccoli Casserole:
Trust us – this meal is really hearty when served on its own. increase.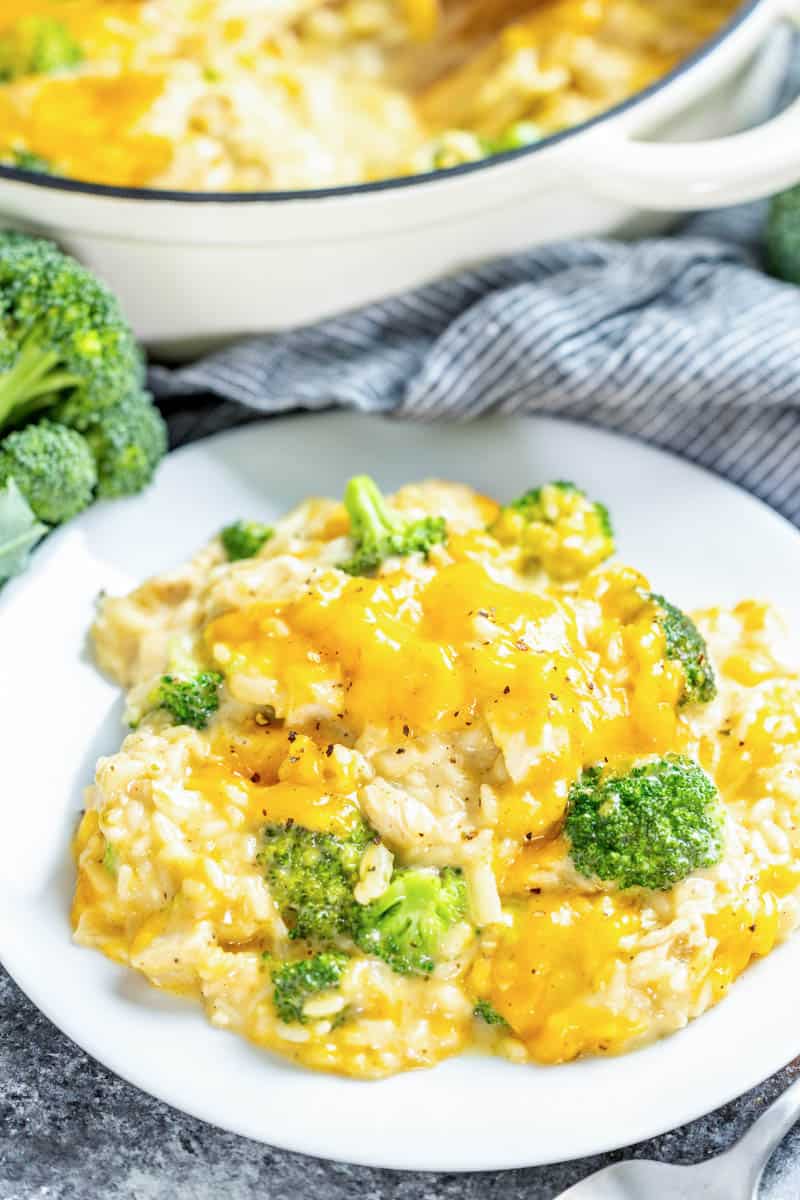 Freezing method:
Cook the finished casserole and let it cool completely. Transfer it to a freezer-safe container – I love using a baking dish made out of aluminum foil for easy reheating. To reheat, add a little more cheese over the chicken and broccoli casserole, cover with foil, and bake until warm at 350 degrees Fahrenheit, about 40 minutes.
Reheating and Storage Instructions:
Do you love leftovers as much as we do? Leftovers can be stored in the refrigerator in an airtight container for up to 3 days. When you're ready to eat, reheat leftovers in the microwave in 30-second increments.
If you like this recipe, you may be interested in other delicious casserole recipes.
Watch the video below Caytlin walks you through every step of this recipe. Sometimes visuals help and we always have you covered with our cooking shows. Youtube, facebook watch, or our Facebook pageor here on our website with the corresponding recipe.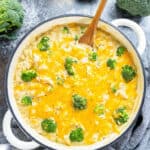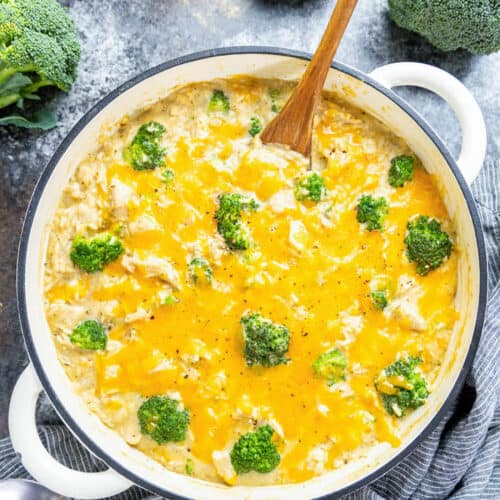 Our Creamy Chicken Broccoli Casserole has juicy chicken, tender broccoli, steamed rice, and a perfectly seasoned homemade cream sauce. The ultimate dish to end a busy day, please try it tonight!
material
2

tablespoon

Olive oil

2

tablespoon

butter

1 – 1 1/2

lb

chicken

cube

1/2

tea spoon

salt

1/2

tea spoon

black pepper

1

cup

chopped onion

1

tablespoon

garlic

chopped

1 1/2

cup

long grain rice

3

tablespoon

all purpose flour

2

cup

milk

2 1/2

cup

chicken or vegetable soup

1

tea spoon

dried thyme

1

tea spoon

dried oregano

1

big head of broccoli

Cut into small florets about 3-4 cups worth

2

cup

shredded cheese

Divided
instructions
Heat the olive oil and butter in a heavy duty oven-safe pan or Dutch oven over medium heat.

Add the diced raw chicken and season with salt and pepper. Cook for 5 minutes until the surface of the chicken is browned.

Add the onions and garlic and sauté with the chicken until the onions are translucent, about 3-5 minutes.

Add rice and fry for 2-3 minutes. When the rice is cooked, add the flour and stir-fry for about 1 minute.

Slowly pour in the milk while continuing to whisk until the sauce thickens. Pour in the broth, thyme and oregano. Bring this to a boil, then reduce heat to medium-low. Cover and simmer until the rice is almost cooked, about 15-20 minutes.

Add broccoli and mix gently. Cover again and simmer for 2-3 minutes. Stir in 1 cup cheese. Top with remaining cheese and let stand under broiler for a few minutes for additional browning (optional, but recommended).
calorie: 879kcal | | carbohydrate: 55g | | protein: 54g | | thick: 49g | | saturated fat: 18g | | Polyunsaturated fat: 7g | | Monounsaturated fat: 19g | | Trans fat: 1g | | cholesterol: 193mg | | sodium: 1022mg | | potassium: 956mg | | fiber: Fourg | | sugar: 8g | | Vitamin A: 1412IU | | Vitamin C: 96mg | | calcium: 393mg | | iron: Fourmg